Log Styles
The massive size logs, 180–270×260 mm, are perfect for detached houses and other large public buildings. Depending on the building regulations of each respective country, they do not normally require additional insulation. The most popular massive log size is 202x260 mm.

The newest massive log size is 270x260 mm. Although the thickness of the log has been increased, the proportions have remained balanced.

In our broad range of logs, you will find alternatives for a variety of purposes. The precision-cut laminated logs, which are resistant to twisting and cracking, are shaped into the various corner and joint solutions that enable even the most challenging structures.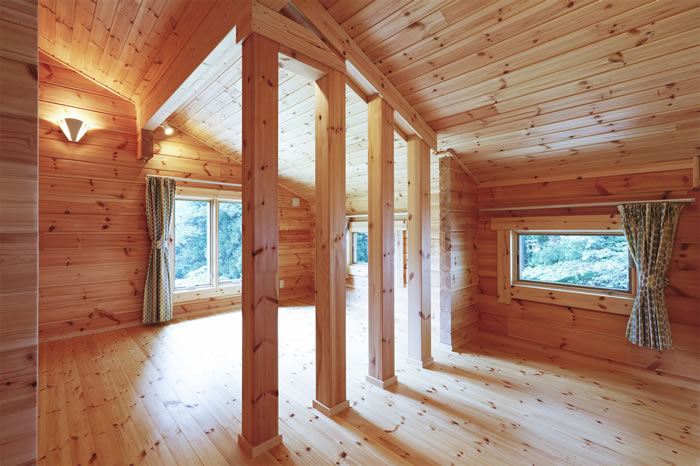 Growth & Climate
The laminated logs are made from selected pine trees that feature a straight trunk and have developed a dense fibre structure while growing slowly in the cool climate. The logs are split and joined together in such a way that the heartwood is at the surface. This is why laminated logs withstand varying weather far better than traditional round or planed logs. Log houses constructed from laminated logs experience very little settling.
Additional insulation as an alternative
If you so desire, you can choose a double structure, a smaller log dimension and additional insulation, for the walls of your house. In Finland, this structure is often insulated with wood fibre, which preserves the breathing properties of the wall. Insulation is placed on the inside of the wall, and the surface is finished with log panels or other preferred surface material.
The additional insulation can also be applied externally which will leave the surface of the logs exposed inside the house. An external solution for additional insulation purposes may also be required by certain planning regulations.
In terms of price, the double structure is cheaper than a massive log, but the price difference balances out in the erection phase when the insulation and work costs are included. Whether you choose to build your house using massive logs or a log structure with additional insulation, the end result will be an environmentally friendly, warm and durable log house that will retain its value for generations.